Thunderbird Filler Sealer Quart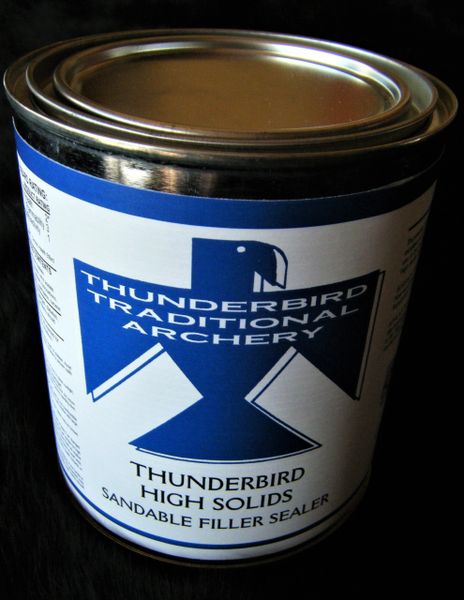 Thunderbird Filler Sealer Quart
Thunderbird Sandable Filler Sealer Quart
20.00
IMPROVED now Sprayable 
Dries even faster now spayable . Dries to the touch in 15-20 minutes. Can be sanded and recoated immediately. It is also easier to sand. Yet has all the same high quality filling that those of you who love the old product rely on.
This sealer has been specially formulated for archery applications (but works great for many other applications as well). This products high solids content gives a fast, excellent build on open or porous wood grains. It is an excellent sealer and filler for the riser section of a bow. Brush on application. Not recommended for the limb section due to lack of flexibility. 
Specially formulated to work with our 2 part epoxy to reduce finishing time and production time on your bows. You can move quickly right from filling to spraying epoxy on you bows immediately after sealer is set and sanded. 
Do NOT wipe down or "clean" with solvents (acetone, denatured alcohol etc.) after applying, drying and sanding on bow as it will have an undesirable chemical reaction.
Not Recommended for Cocobolo or extremely oily woods
Shipping with in the continental US and some parts of Canada only. Sorry for inconvenience
Orders will ship  Ground,  USPS priority is just being used to calculate cost. 
WARNING: 
Known to the state of CA to cause cancer, birth defects or reproductive harm - 
www.P65Warnings.ca.gov
Featured Products