Thunderbird Quick Drying Pre-Catalyzed lacquer Quart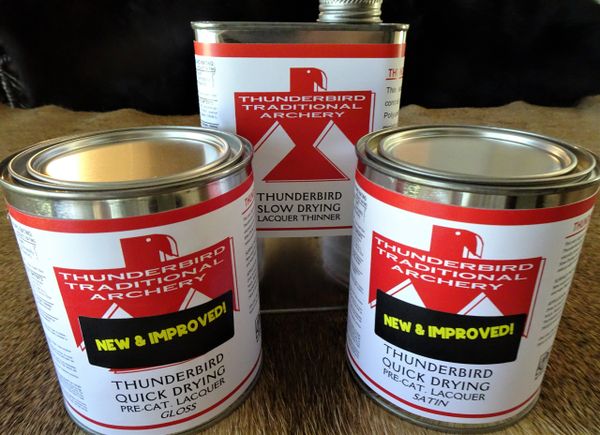 Thunderbird Quick Drying Pre-Catalyzed lacquer Quart
Thunderbird Quick Drying Pre-Catalyzed lacquer Quart
$23.25
New and Improved 
How is it better?

First thing you will notice is there is much less odor.
Second, it is lower viscosity so you will not need as much of the thinner.
Third, it is clearer. It will not change the color of the painted areas of your arrow.
Fourth, you will be able to seal over arrow caps and cresting without color bleeding.
Fifth, it penetrates raw wood deeply to create the ultimate barrier to weather.
All this makes it our highest quality finish yet and is ideal for arrows. It remains extremely flexible and will not crack under any weather condition. It is extremely resistant to gasoline, alcohol and water.
It can be used with a dip tube, wiped on or even sprayed.
Do not clean-up with or reduce with mineral spirits or alcohol

Available in Gloss and Satin.  Shown with thinner. Thinner sold separately
1 Quart can
Shipping with in the continental US only. Sorry for inconvenience
WARNING: Known to the state of CA to cause cancer, birth defects or reproductive harm - www.P65Warnings.ca.gov


Featured Products