Thunderbird Epoxy bow finish Pint Kit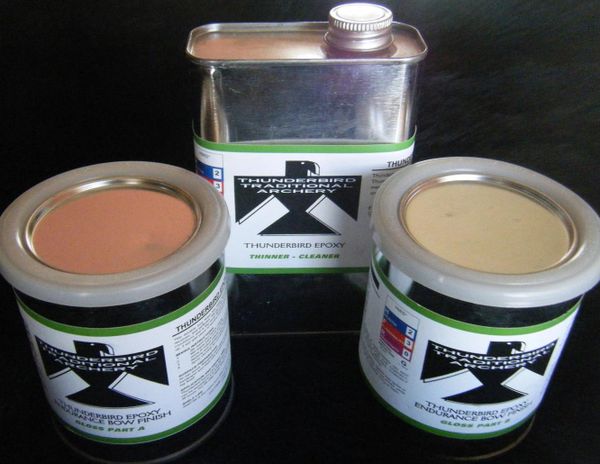 Thunderbird Epoxy bow finish Pint Kit
Thunderbird Epoxy bow finish Pint Kit
$55.00
This is a durable bow finish has been formulated to provide the ultimate protection and beauty for Longbows, Recurves, and Selfbows. We call it "Endurance Bow Finish" as it will not crack or check under any weather conditions, and it is the most abrasive and chemical resistant finish on the market. Easy to apply and touch-up. It will add years of service and beauty to your bows.
Pint Kit includes one can each Part A, Part B, and Thinner. Available in Gloss, Satin, and Flat finishes.
Gloss is FDA approved.
Other uses include Game Calls, Taxidermy, and any other wood project that you need a long lasting durable finish on.
We never recommend Flat as base coat only top coat on Gloss

Shipping with in Canada is possible in most of the country. Please call or email for shipping quote

All orders will ship Fedex Ground,  USPS Priority is just being used to calculate cost. 
You may not spray this material in California, Only Brush on 
WARNING: Known to the state of CA to cause cancer, birth defects or reproductive harm - www.P65Warnings.ca.gov


Featured Products